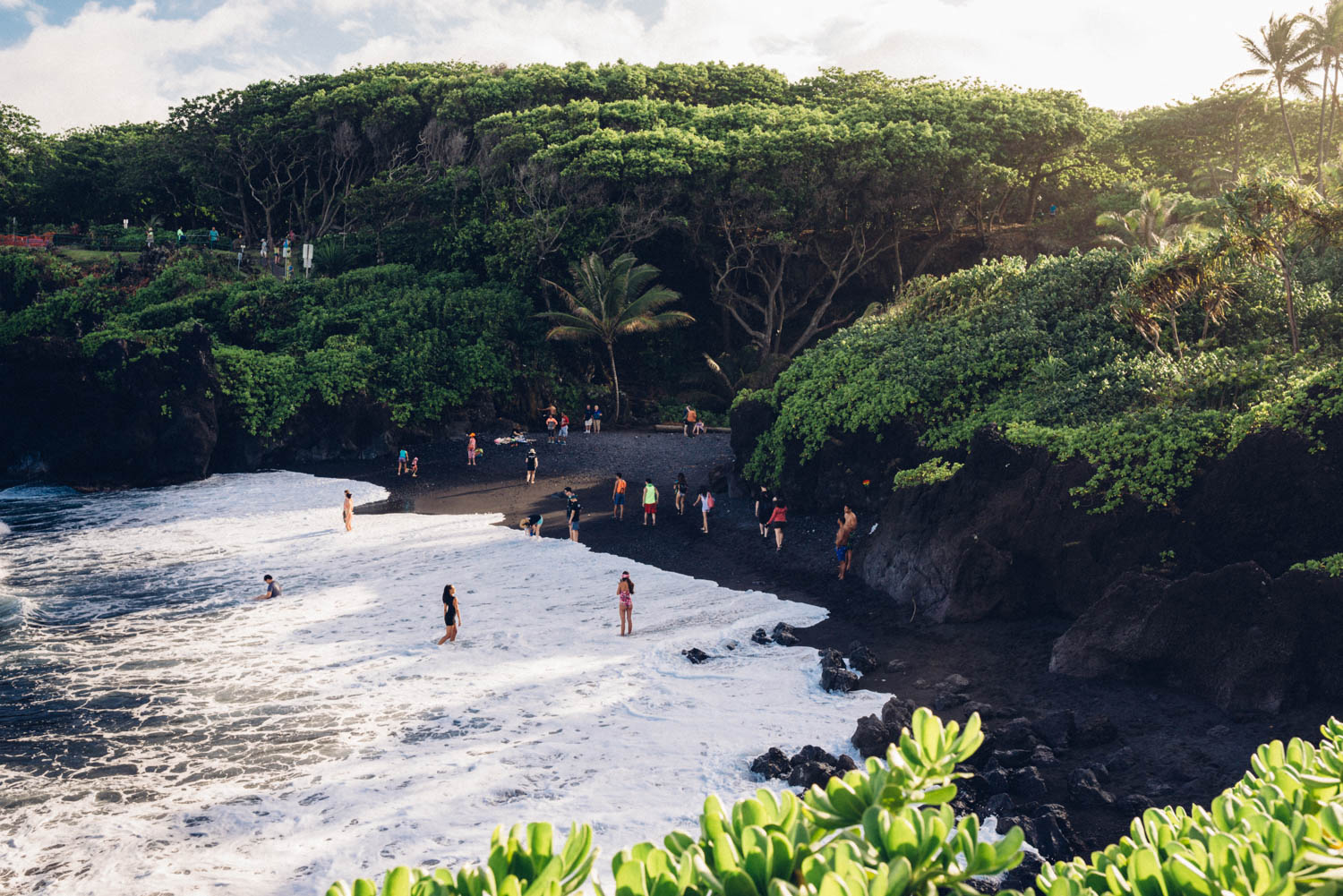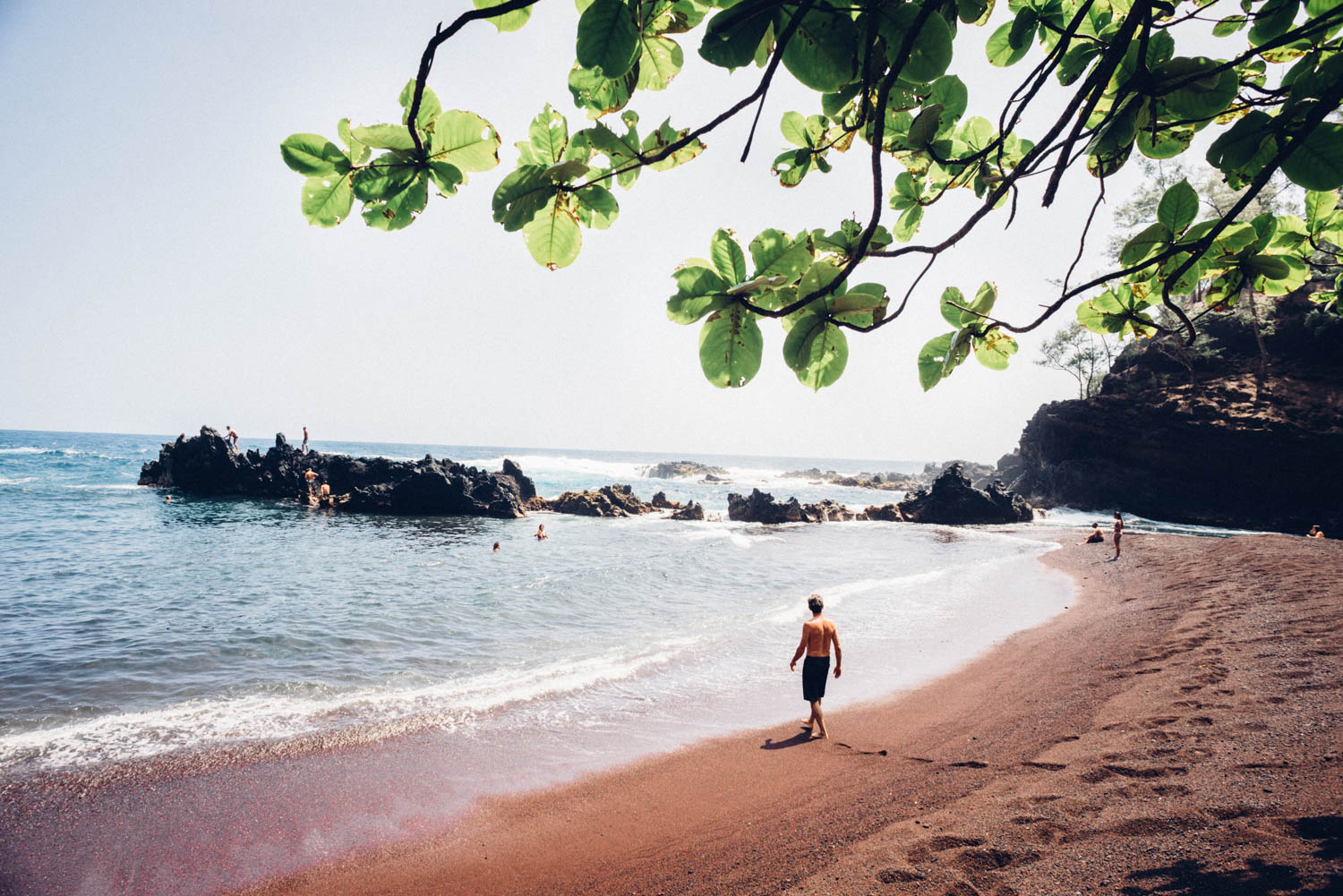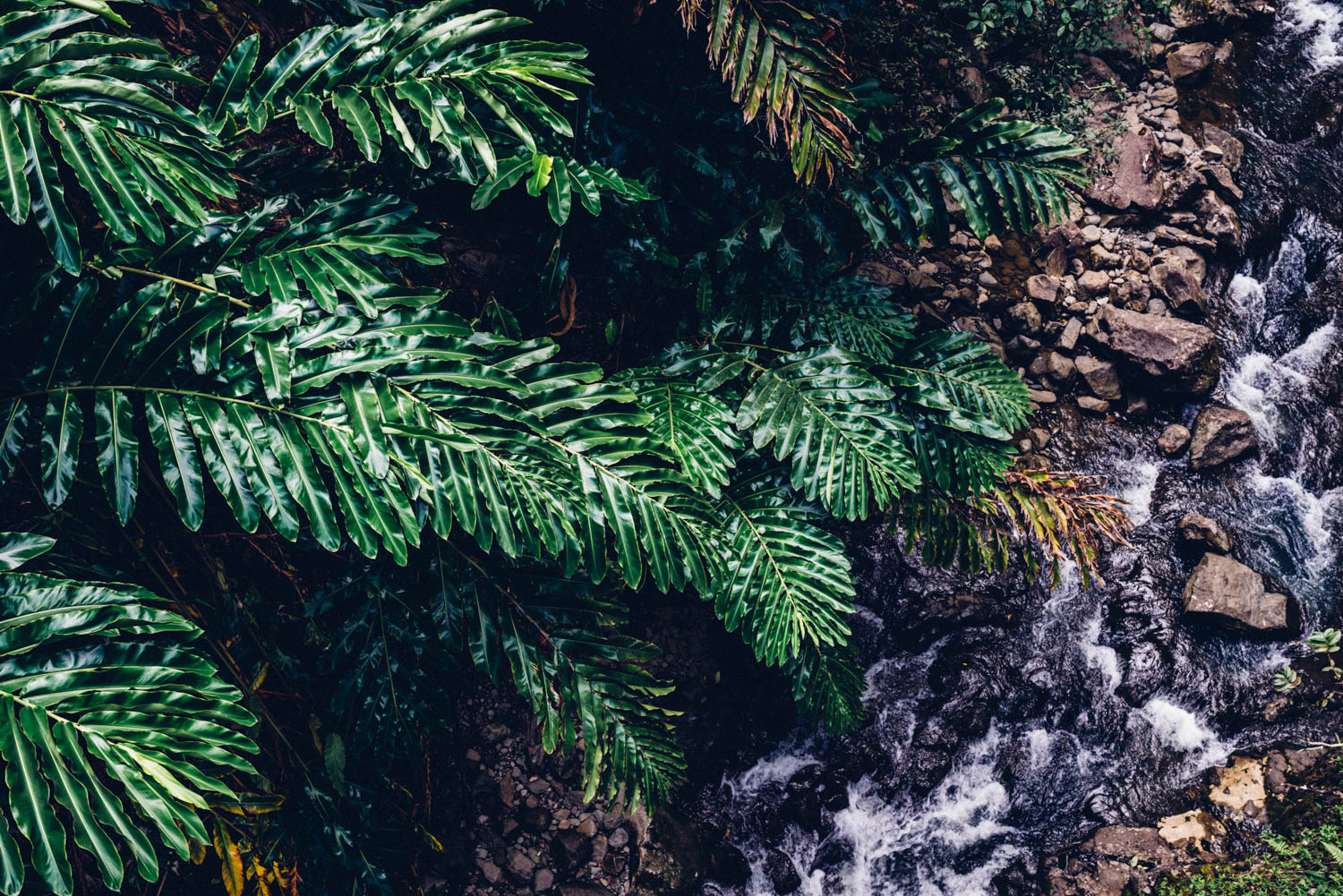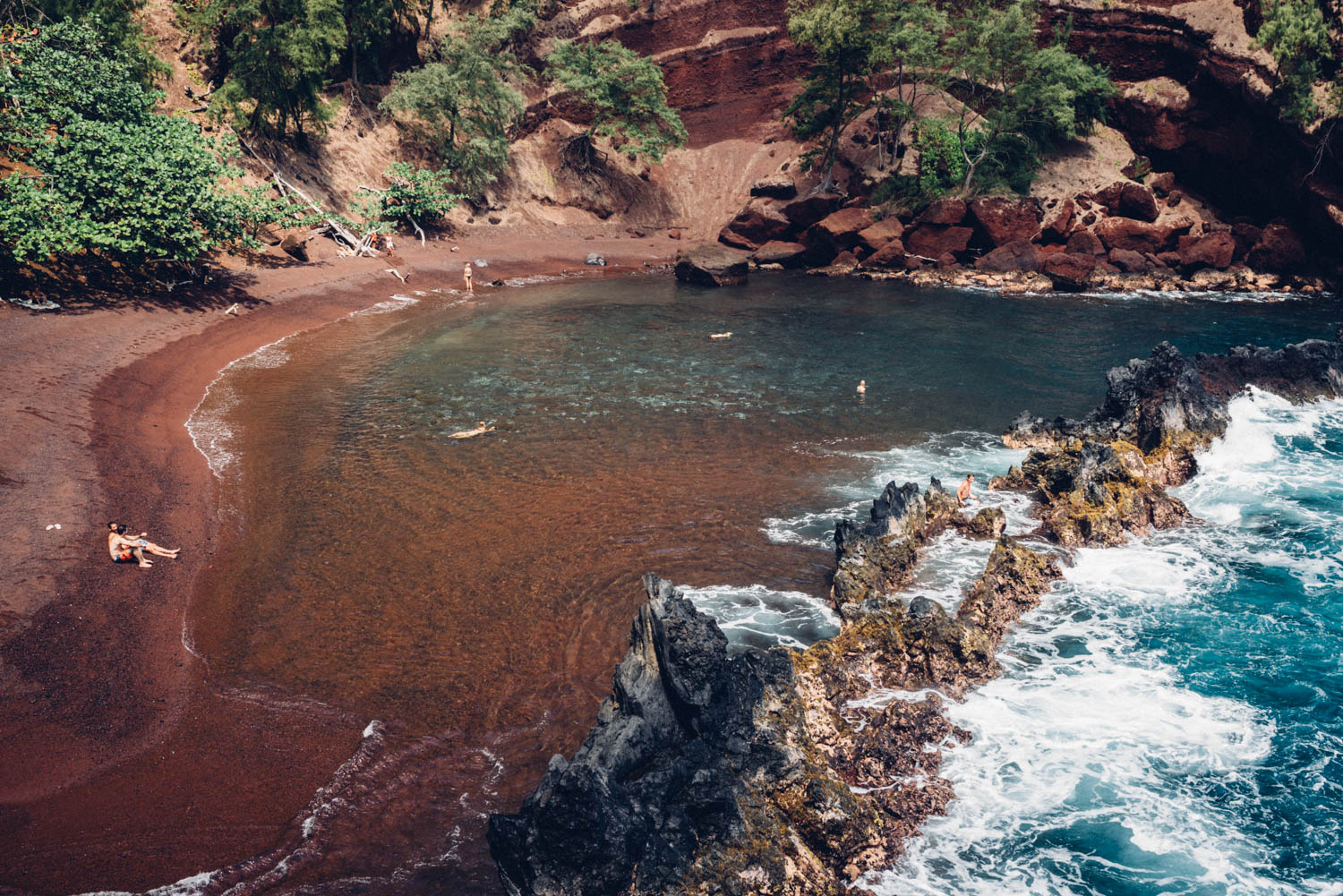 Escape! To Hana
It would be a mistake to think that the journey to Hāna—52 miles of hairpin turns through dense jungle and along sheer cliffs—is more important than the destination.
While Hāna Highway offers enough roadside attractions and worthwhile detours to turn a two-hour car ride into an eight-hour adventure, it is precisely the difficulty of this journey that makes the final destination so special. Hāna grew rapidly in the late 1800s when six sugar plantations were operating there, but many families moved away once the plantations closed after World War II. These days, Hāna's approximately 1,200 residents—both locals whose families have been there for generations and visitors so seduced by the area that they decided to stay—are committed to keeping the area largely unchanged. Unlike other sleepy country villages in Hawai'i that see residents commuting to town every day for work, locals of Hāna live and work there, rarely leaving more than once a week. This small footprint makes for a tight-knit community, one whose members must rely on each other and the land. "What makes Hāna so special is the people," says Ipo Mailou, a staff member of Kahanu Garden. "We genuinely care about the people, the family, the ocean, the 'āina. It is the commitment that we made to our families, to our kūpuna, that this land is going to stay like this for generations to come."
TO EAT
Rust Buckets
Off one of the 620 curves on the Road to Hāna, located closer to the beginning than to the end, you will find the Rust Buckets food truck in a lush clearing. Reggae music may or may not be on blast, and Jesse Nako'oka, owner of the Live One Day Hawaiian Adventures company that shares the same plot, may or may not be on hand to hack open a fresh coconut for you. But there is certainly lunch to be had. Today, Rust Buckets owner Kapono Tumale is serving up a mountain of kālua pork and barbeque chicken with brown rice, fresh pineapple, and grilled banana. All of the food is made fresh daily and uses locally sourced ingredients, which means that whatever Tumale and his friends hunt, fish, or gather may make an appearance, including rack of goat, beef ribs, prawn curry, or fresh ahi. Rust Buckets' live-from-the-land ethos even extends to its dishware: To minimize waste, Rust Buckets' food comes served on plates made of banana leaves.
Thai Food By Pranee
The days that this food truck are open are limited, and it only serves lunch, but who ever said that getting the good stuff would be easy? On a small road overlooking the Hāna Pier, a red sign points you in the direction of the best Thai food around. Originally a food vendor in Bangkok, Pranee Collins came to Hāna in 1989 and started cooking for private parties in town. Demand for her delicious dishes quickly grew, and she opened her food truck eight years ago. These days, Collins whips up two specials daily, or will make you her other menu items to-order, but come early, as it all tends to sell out quickly. You can't go wrong with the house specialty: deep fried opakapaka (Hawaiian pink snapper) with green mango salad. A fan favorite, this item is crispy on the outside, moist on the inside, light, tangy, and refreshing. Says one Hāna local juggling five takeout orders of it: "Wait 'til you taste the lime dressing!"
TO SEE
Hasegawa General Store
No trip to Hāna would be complete without a visit to Hasegawa General Store, a true old-fashioned general store open since 1910, found on the way out of town heading toward Seven Sacred Pools. Part grocery store, part hardware store, with a smattering of souvenirs and recreational items, Hasegawa's has been supplying locals and visitors with all that they need for more than 100 years. Its specialty? Machetes. "We carry the largest selection of machetes on the island," says Neil Hasegawa, the fourth-generation owner of this family-run business. "Guys drive all the way from Kahului for my machetes."
Ke'anae Peninsula
Past mile marker 16 on Hāna Highway is a sign for Ke'anae, a picturesque peninsula well worth the detour. Rough waves crash on its rocky beaches, and the village found here consists of nothing more than a handful of houses hidden in the foliage and a beautiful rock-walled church built in 1856. Grab some shave ice or banana bread from Aunty Sandy's, the only vendor in the area, and take in the dramatic cliffs and high surf of Maui's north shore.
Kahanu Garden
Hāna is often described as Maui's "last truly Hawaiian place," and there is no better spot to experience this truth than Kahanu Garden. Explore this peaceful botanical garden, home to plant species from throughout the Pacific, one of the last native hala tree forests, and Pi'ilanihale, the largest heiau in Polynesia. Don't be shy to talk to the friendly park staff—they are eager to share their knowledge of Hawaiian culture.
TO DO
Kaihalulu Red Sand Beach
You get to Kaihalulu Bay the same way you get to any of Hawai'i's best spots: from an unmarked trail at the end of Uakea Road and over sketchy, somewhat dangerous, terrain. This 10-minute-long hike delivers stunning views of the water, and leads to the perfect crescent of red sand. Here, the rocky pinnacles create a naturally sheltered cove ideal for snorkeling. Bring your mask, but leave your judgments behind: This nude beach will likely have a naked hippie or two, along with a lot of tourists.
Wai'anapanapa State Park
You may be looking for a black sand beach, but at Wai'ānapanapa State Park (Wai'ānapanapa is Hawaiian for "glistening water"), you'll get a lot more. Located at the end of Wai'ānapanapa Road off Hāna Highway, a small road leads past old rock walls to camping areas in the trees. The coastal trail promises incredible views of lava rocks jutting from the ocean, and leads past sea caves to the black sand beach.
Hike to a Waterfall
It would be a sin to drive this far through the rainforest and never step foot in all its greenery. There are countless waterfalls along the Road to Hāna, both visible and hidden, but some of the best can be found past Hāna. For instance, the pools at 'Ōhe'o Gulch, also known as the Seven Sacred Pools, are one of the area's most famous sights, and are located in the Haleakalā National Park, just 20 minutes south of Hāna. A short hike brings you to tiered pools fed by 'Ōhe'o Gulch—perfect for swimming when the water is low—while a longer hike up the Pīpīwai Trail leads to the 400-foot Waimoku Falls. More adventurous travelers looking for a less crowded area should ask locals for directions to Waioka Pond (also known as Venus Pool), located just past Hāmoa Beach on Hāna Highway. The Kīpahulu entrance to Haleakalā National Park is found at mile marker 41 on Hāna Highway; $15 entrance fee per vehicle.
[Originally published in Flux Magazine]