BANGKOK
Off the Backpacker Path on Soi Rambuttri
It seems like every backpacker 20-something on their way to a full moon party stays on Khao San Road while in Bangkok. If you are in desperate need of Singha beer tank tops, elephant-print yoga pants, and shisha bars playing Rihanna, this is your stop. It is not the place to stay, however, if you are vacationing with your parents or searching for something authentic.
While I generally pride myself on avoiding the tourist crowds, at the end of the day when you are tired from exploring there is something to be said for a pedestrian-friendly area with quick eats, English-speaking vendors, and $5 Thai massages. Skip Khao San and check out neighboring Soi Rambuttri instead. A little quieter, less crass, and a lot more charming, this maze-like street has plenty of alleyways to discover and some great street eats to be had. It is centrally located in the Old Town of Bangkok and within walking distance to the Grand Palace, river ferry, and tons of wats. Some tips:
Eat: If you've reached your limit on Thai but still on a budget, check out Roti Mataba on Phra Arthit Road. This place serves delicious Indian roti dishes for around 100 baht, and there was always a line of locals outside.
Drink: Follow the maze of Rambuttri towards the river to find Phra Arthit Road. A row of charming restaurants packed with locals offers buckets of beer and lively cover bands to accompany your noodle soup.
Duke it out: At the very end of Rambuttri towards the river (after passing what seems to be someone's outdoor living room) lies a Thai boxing ring. Take a class or watch others train daily from 7:30 – 9:30am or 3:00 – 5:00pm.
If You Dare: Yes, this does seem to be mostly for tourists, but the insect carts on Soi Rambuttri sells fried scorpions, grasshoppers, and ginormous cockroaches. If you don't dare, it is still 10 baht for a photo.
What the Wat: Temples
Everywhere you turn in Bangkok is another wat (temple) and there is no way you can see them all. I'm not going to lie: I reached my wat limit pretty quickly, though my mother would strain to see behind the walls of each one we passed. To see the classics, head to the Grand Palace, Wat Pho, and across the river to Wat Arun. They are all incredibly intricate and detailed, each with a unique feeling all their own. Peaceful they are not, though, as hoards of tourists pass through throughout the day. Duck into a less-known neighborhood wat for a more tranquil experience.
The Best Markets in Bangkok
Alright, alright. There is no scientific basis for this list. I did not try all the markets in Bangkok, not even a majority. I didn't even go to any of the recommended ones outside of the city. So you have no reason to believe me except that I ate, shopped, and haggled my way through as many markets as I could manage in ten days, and I deem these three the best, if only because they give you an experience one can only have in Bangkok.
1. JJ/ Chatuchak Market: There is no use mentioning markets in Bangkok without mentioning this massive weekend market. It is the biggest and the best and has stalls selling absolutely anything you could imagine and desire, from shoes to hardware to exotic pets. Haggling is a must as prices are not as cheap as they used to be. While a lot of the goods might not be very authentic or original, with some patience you can still find some creative souvenirs. It is worth it to experience the scale and the madness of it all (pictured above).
2. Amulet Market: This is neither the biggest nor the best market, but it is a very Thai experience. Vendor after vendor sell amulets and religious paraphrenalia to discerning customers – many locals carry around a small looking glass to examine the talismans for signs of good fortune. Up your good karma by picking up a golden buddha or elephant for your friends back home. If you're extra lucky you might even spot a monk or two.
3. Sukhumvit Soi 38 Night Market: Everybody and their mother told me that the best street food in the city is to be had at the Soi 38 night market. As a matter of principle, I thought it best to try it all. After the grilled duck, pad thai, and fried pork belly, we still managed to find room for mango sticky rice. It's safe to say that everybody wasn't wrong.
Exploring the Trendy Side of Bangkok: Silom to Sukhumvit Road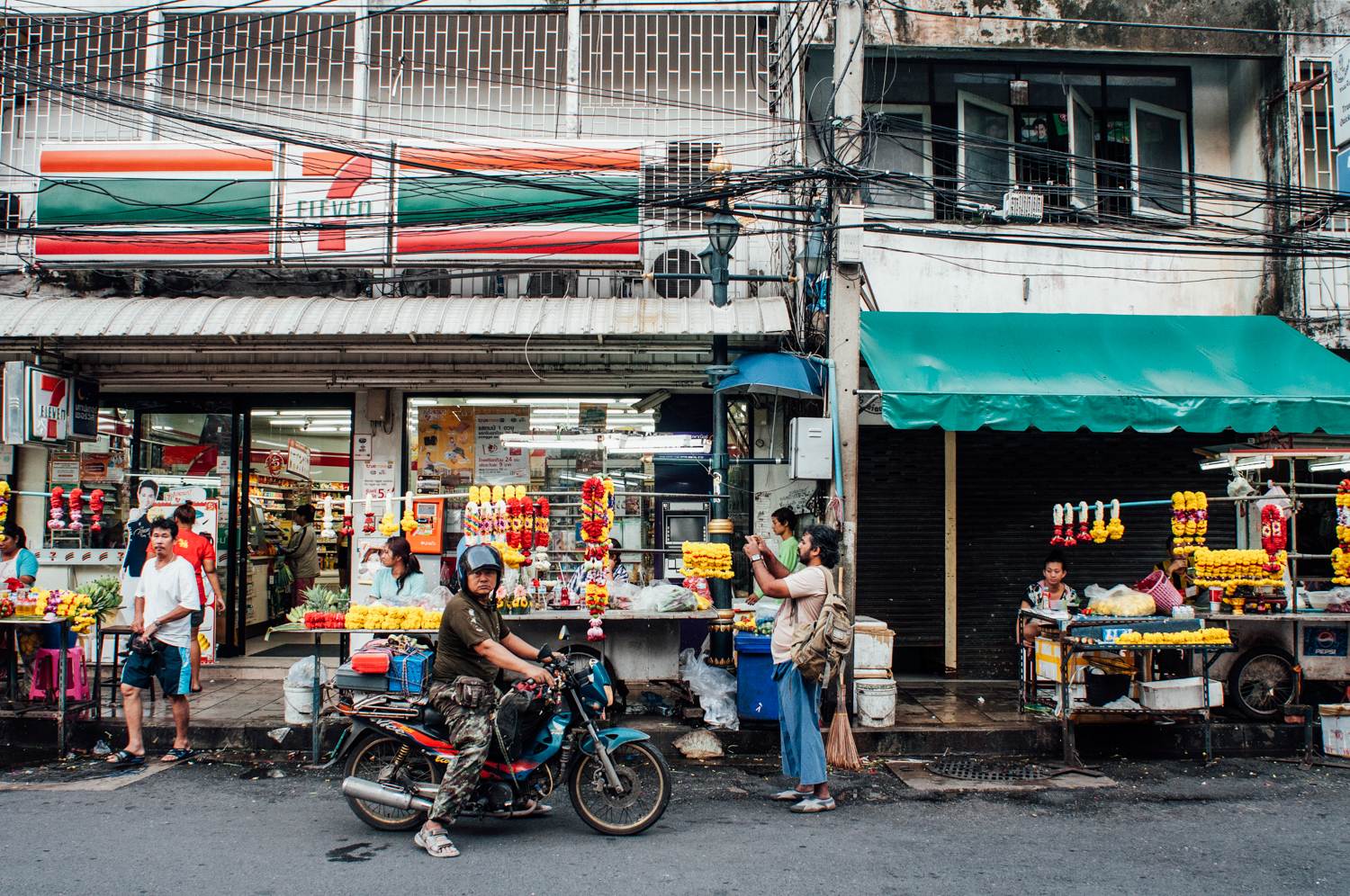 Once you've ventured past the requisite temples and markets of the Old Town, catch a river ferry down to Silom. This area is all "business in the front, party in the back" – the quiet daytime business district gives way to Bangkok's most infamous party area by night.
Further northeast of Silom starts the long boulevard of Sukhumvit. This congested area might not be as pedestrian friendly as parts of the Old City, but this is where the cool kids go. Trendy bars, restaurants, and boutiques can be found within a few blocks of this major street, with the farther east neighborhoods of Thonglor and Ekemai attracting the wealthy Thai and expat crowd.
Worth Checking Out:
Patpong: Head to Patpong after 9pm for titty bars, loud tourists, and night markets of fake designer goods. Needless to say this is not the area to visit with your family, unless you are OK with vendors trying to sell a ping pong show to your dad.
City Views: If you want to see the city from above, nothing beats the Sirocco Restaurant in the Lebua Hotel at the top of the State Tower Building. You'll recognize this rooftop scene from The Hangover II.
Lumphini Park: Getaway from the incessant noise and congestion of Bangkok in one of the city's larger parks.
Snake Farm at Queen Saovabha Memorial Institute: This venom research center also doubles as a tourist attraction with daily milking demonstrations and live snake handling shows of native Thai snakes, from the Burmese Python to the King Cobra. Definitely worth it for the Britney Spears-esque photo op alone.
Sukhumvit Soi 38 Night Market: Frequently recommended as the best street food in Bangkok.
Trendiest Sips and Bites: I wasn't able to visit all of these, but they all came recommended to me. Head to any of these eateries for a guaranteed view of Bangkok's young and chic: Appia, Iron Fairies, WTF, Boyy Cafe, Opposite Mess Hall, & Soul Food Mahanakorn
Across the Chao Phraya River: Exploring Thonburi
When some expats gave me a funny look for saying I visited Thonburi, I knew I must be off the beaten path. I headed south of the river to Charoenrat Road in search of Bangkok's best craft supply area.
This loooong street is packed with any item a craft-lover could desire. Store after store filled with fabrics, buttons, jewelry, hardware, leathers, and skins are waiting to capture your imagination. Come prepared to be overwhelmed and inspired, and preferably with a project already in mind. As with anywhere in Bangkok, having a healthy appetite can't hurt either – half of the street is taken up with food vendors.
Catch the BTS (Skytrain) to Krung Thon Buri or the river ferry to Tha Din Daeng.
Travel to Old Siam in Bangkok's Chinatown
One of the highlights from my 10-day Bangkok trip was the time spent wandering around Chinatown. Off of Charoenkrung Road you will find yourself at the entrance of a giant maze of market stalls, hawking everything from candy to underwear. It was refreshingly un-touristy though at times a little claustrophobic.
The real magic, though, is to be found on the side streets around the market. Buildings one hundred years old, often unchanged and filled with original shelving and merchandise, mingle with the hubbub of the crowded city. I am crazy for old architecture and it is one of the best places to get a glimpse into life in Old Siam. It is hard to imagine that stores like these will last much longer in this increasingly cosmopolitan city.